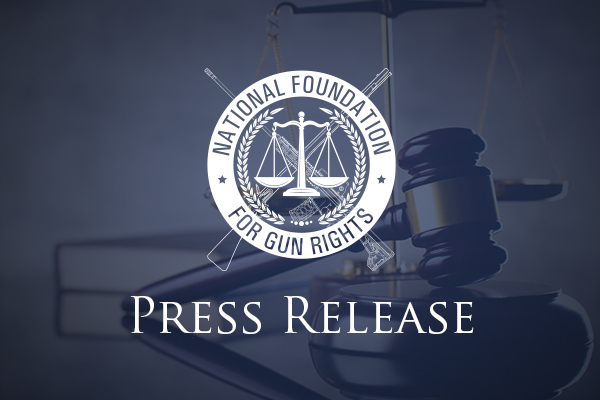 September 13, 2023
Albuquerque, NM – Today, the National Association for Gun Rights (NAGR) and Foster Haines (NAGR member and Albuquerque resident) were granted a Temporary Restraining Order against Governor Michelle Lujan Grisham and Secretary of Health Patrick Allen's Executive Order 2023-130 and a subsequent Public Health Emergency Order issued by the Secretary, which bans the public carry of firearms in Albuquerque for 30 days.
NAGR argues the Order is unconstitutional on the merits of the Supreme Court's ruling NYSRPA v. Bruen, which held New York's ban on the public carry of firearms unconstitutional. Bruen also held that any gun regulation that does not fall into the text, history, and tradition of the Second Amendment is unconstitutional.
"We are thrilled to win a temporary restraining order today from a federal judge blocking the governor's wildly unconstitutional public health gun ban. This ruling emphasizes what our legal team has said all along – there's not a shadow of an excuse under the Supreme Court's Heller and Bruen precedents for an executive to suspend the United States Constitution," said Hannah Hill, Executive Director of the National Foundation for Gun Rights (legal branch of the National Association for Gun Rights.)
"As our attorney said in court today, there is no exception to the Second Amendment. As a result of today's temporary restraining order, the law-abiding gun owners of Albuquerque are able once again to exercise their right to bear arms," said Hill.
Gov. Luhan Grisham had declared a state of emergency over "gun violence" and used emergency powers to carry out the ban.
"Governor Grisham's tyranny is temporarily in check today," said Dudley Brown, President of the National Association for Gun Rights. "Her own Attorney General has refused to defend her in court and the Biden appointed judge won't back her play."
"The governor stirred a hornet's nest with her abuse of 'emergency powers'," continued Brown. "Gun hating liberals in positions of power are put on notice: So-called 'emergency powers' are not to be used for their unconstitutional gun control tantrums."
The National Association for Gun Rights argues Gov. Lujan Grisham overstepped her Constitutional authority in issuing Executive Order 2023-130 and looks forward to its day in court. 
You can read the Temporary Restraining Order here.
The National Association for Gun Rights is the nation's largest "no compromise" pro-gun organization, with 4.5 million members nationwide.
###