UPDATE: On May 17, 2021, the Supreme Court ruled 9-0 AGAINST warrantless home search and seizure — specifically, that the "community caretaking" exception does NOT apply to homes!
Can the police enter your home without a warrant to take your guns?
That's the question the U.S. Supreme Court has agreed to decide in Caniglia v. Strom.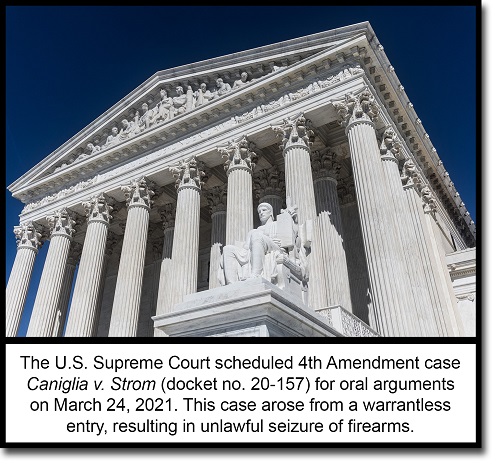 The court decision to review a landmark Fourth Amendment case involving illegal gun seizure is a remarkable about-face from the previous summer, when the justices dismissed ten key gun rights cases.
Caniglia v. Strom arose from a non-violent disagreement between a husband and wife (the Caniglias). Mrs. Caniglia told the police her husband might be suicidal, and the officers promised Mr. Caniglia that they would not take his two handguns if he agreed to go to the hospital for an evaluation.
Mr. Caniglia agreed to go, and was evaluated and discharged the same day.
After he left for the hospital, the police entered their home – despite the lack of a warrant – and seized two handguns.
This is a clear violation of the Fourth Amendment protection against unreasonable searches and seizures.
As the guns were seized without a legal process, there was no real process for recovering them.
Both Mr. Caniglia and Mrs. Caniglia attempted to get the guns back over the next month, and the police simply refused to return them until the couple filed this lawsuit.
The officers claim they acted under the "community caretaking" exception to the due process requirements for searches. This exception to the warrant requirement was created by the Supreme Court in Cady v. Dombrowski:
"[P]olice officers…frequently investigate vehicle accidents in which there is no claim of criminal liability and engage in what, for want of a better term, may be described as community caretaking functions, totally divorced from the detection, investigation, or acquisition of evidence relating to the violation of a criminal statute."
As long as it's not "unreasonable," the argument went, entering a vehicle for "community caretaking" purposes without a warrant was not a violation of the Fourth Amendment.
However, this only applied to vehicles, and the lower courts are divided on whether or not the exception should be applied to homes as well.
Now, the Supreme Court will weigh in on the question. Oral arguments have been scheduled for March 24, 2021.
Our legal team is watching this case closely, as well as other gun-related cases currently pending before the Supreme Court, and will provide updates.
Click here to make a TAX-DEDUCTIBLE contribution to help the National Foundation for Gun Rights challenge anti-Second Amendment laws and rulings in the courts!