We are suing to end standard-capacity magazine bans once and for all!
In a joint lawsuit between the National Association for Gun Rights and our sister organization Rocky Mountain Gun Owners, we are challenging the Town of Superior, CO's ordinance banning standard-capacity magazines, so-called "assault weapons," and public carry.
And we're suing over it all.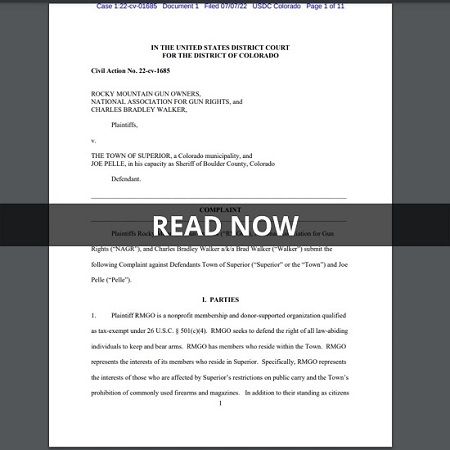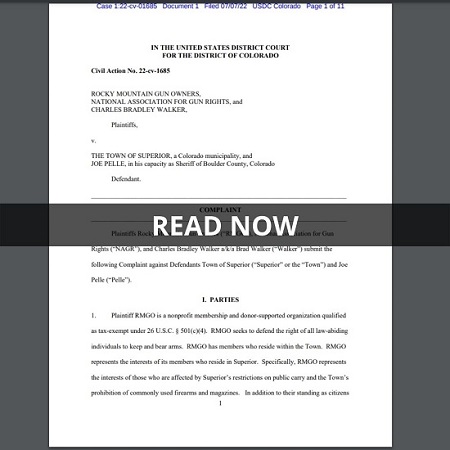 This outrageous ordinance was passed mere weeks before the Supreme Court handed down its pro-gun ruling in New York State Rifle and Pistol Association v. Bruen. This ruling obliterated the "two-step" cost-benefit analysis framework lower courts have used to uphold gun control, defying the Second Amendment in the process.
Now, lower courts will be forced to start with the text of the Second Amendment and the surrounding historical context of the right to keep and bear arms understood by the founders at the time the Second and Fourteenth Amendments were enacted.
Needless to say, there is no way most gun control laws can withstand this true Second Amendment scrutiny, and that includes the Town of Superior's mag ban and "assault weapons" ban.
If our lawsuit succeeds, this will have broad implications for standard-capacity magazine bans and "assault weapons" bans in the entire 10th Circuit and even the entire country (if the case is appealed to the Supreme Court).
Stay tuned for details!